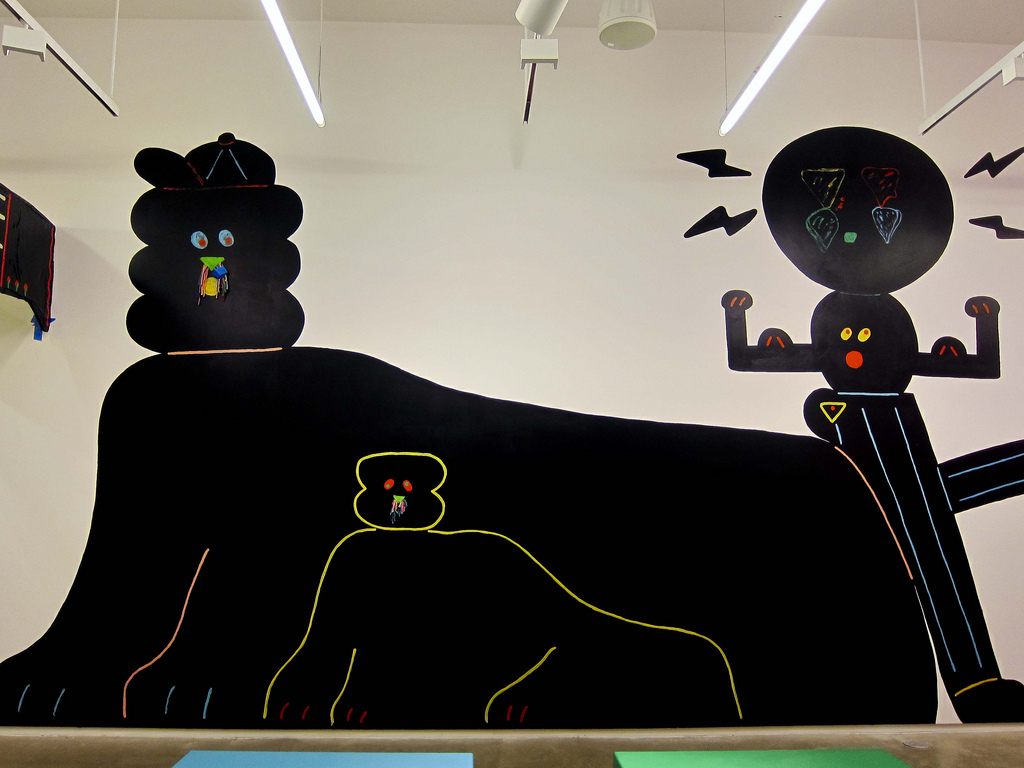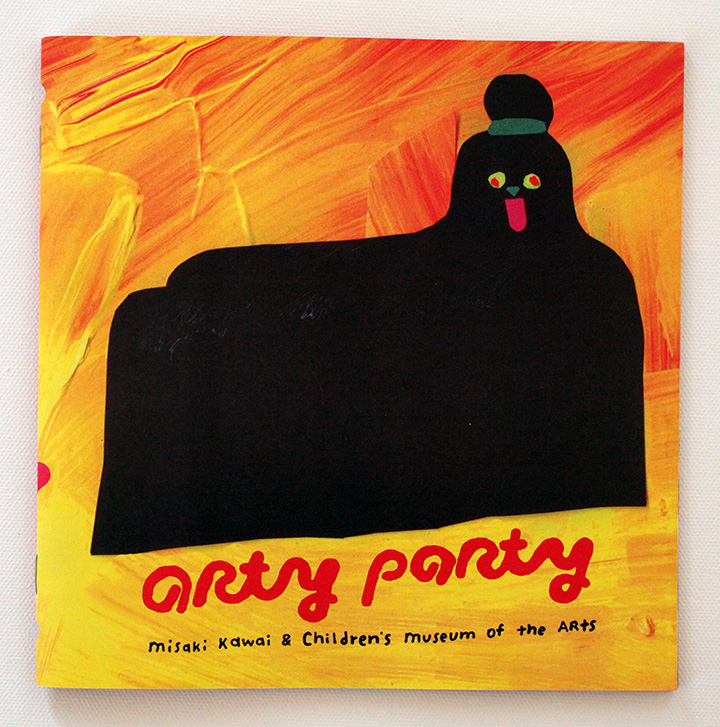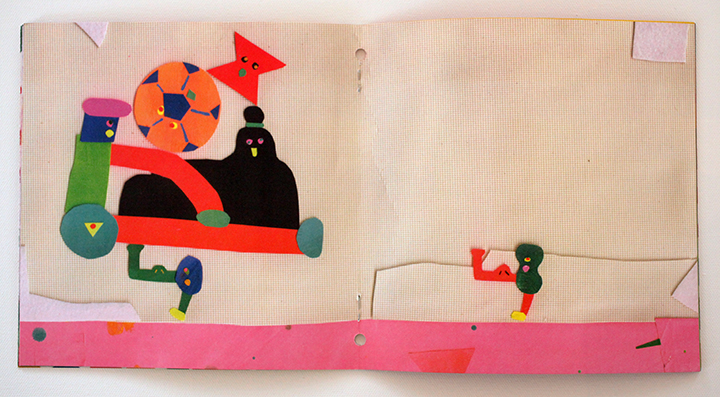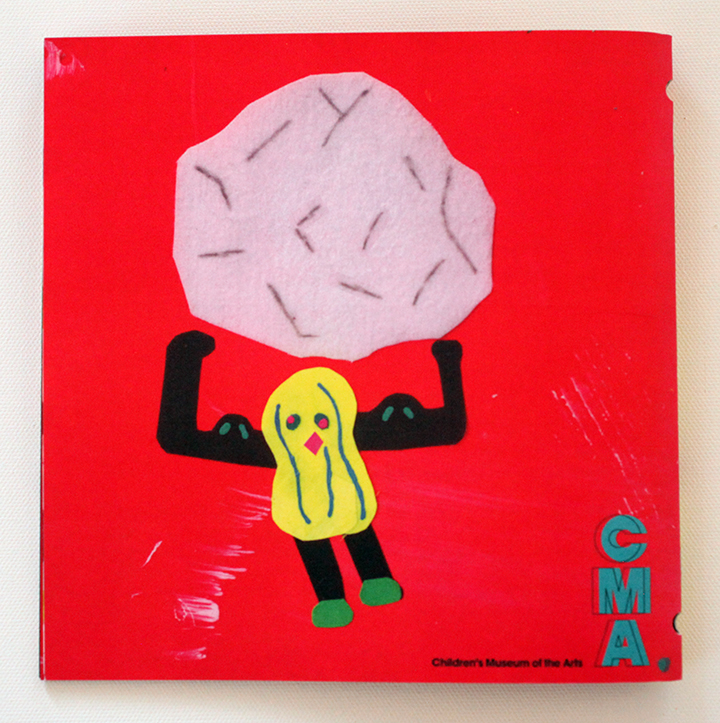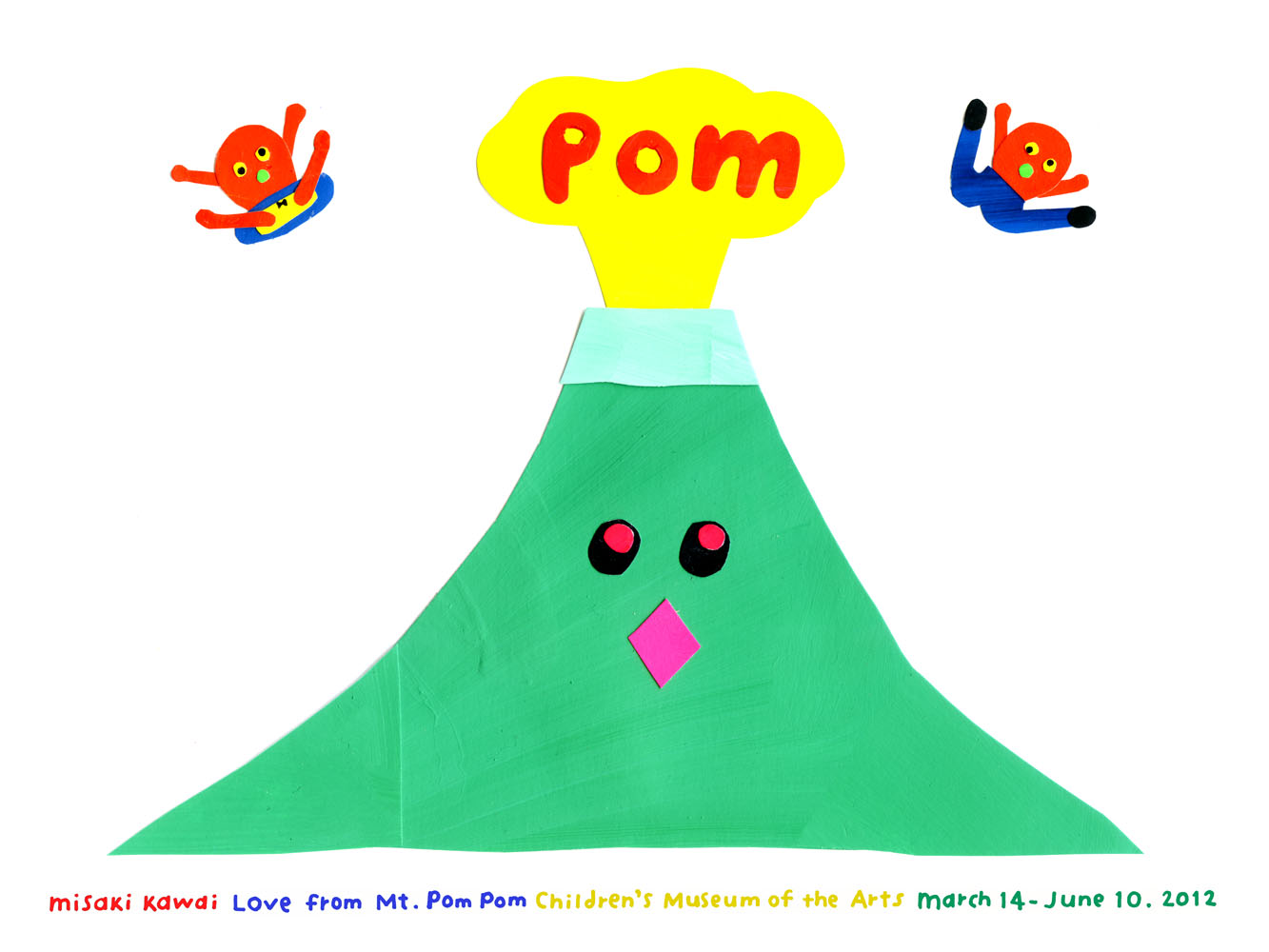 Misaki Kawai - Love From Mt Pom Pom
Mar 14 - Jun 10, 2012
Children's Museum of the Arts, NYC
Curating, Exhibition Design, Project Management and Installation by Prescott Trudeau
All artwork by Misaki Kawai. Furniture fabricated by Tri-Lox Design Build. Could not have been done without the support of Justin Waldron, Misaki Kawai Studio Manager.
Definitely one of the most ambitious projects we've embarked on. Upon entering the gallery, visitors encountered Arty, a 18 ft wide 12 ft tall giant dog comically stuck between two gallery pillars.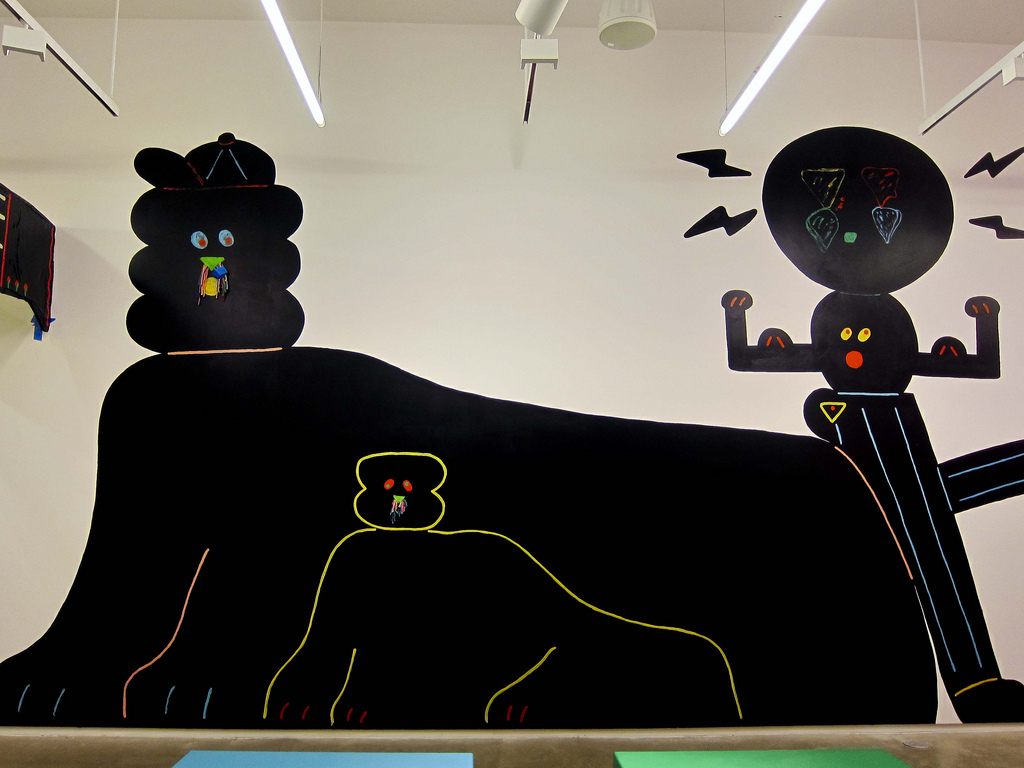 One of the main ideas of the exhibition was to create an environment where creative energy abounds and everyone is encouraged to make stuff. To that end, Misaki and Team hand-painted murals throughout the gallery.
In order to create different spaces within the gallery, Misaki made giant gymnastic yoga dudes out of cardboard and paper mache. This guy is separating the main gallery from costume dress up and performance area.
Costume & Performance Room
The costume room being explored by a young artist.
Bazoombas Bench
Misaki also dreamed of creating furniture. To that end, we produced a series of furniture pieces, each designed as work stations for artmaking, including this wonderful Bazoombas bench....
Snake Bench
.... and this snake bench, which not only has seats and work surfaces, but a mouth stuffed full of collage materials.
Banana Bench
.... and this Banana bench (also comes in black)....
Walrus Sensei Animation Station
.... and the Most Ultimate Media Station ever - a fully equipped stop-motion animation station with overhead camera, materials storage, and instant video replay.
Zines
We also displayed Misaki's self-produced zines (this is only some of them)...
Puppet Theater
And created a Little Puppet Theater (for big kids too).
Throughout the opening of the exhibition Misaki lead workshops in the gallery with young artists.
Misaki also lead musical performances.
We did some speechifying at the Opening Reception.
But mostly just let everyone have fun.
Including a most distinguished guest, the original Arty!
Me and my parents - Thanks for coming Mom & Dad!
The two greatest Curatorial Assistants that ever lived, the most lovely, industrious and creative individuals, Patrick Glass and Jessica Tsai.
The Tri-Lox team: Tim Knight, Ellis Isenberg, Alexander Bender, Jesse Stone and (not pictured) Sam Welch.
Original pages for our Arty Party gallery workbook.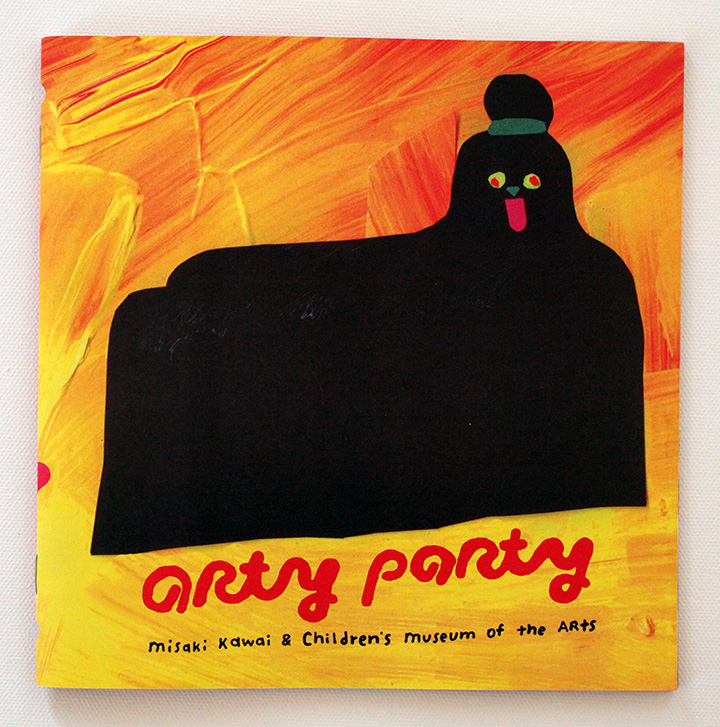 Gallery Workbook
Edited and Produced by NOLA Art Dept
Design by Misaki Kawai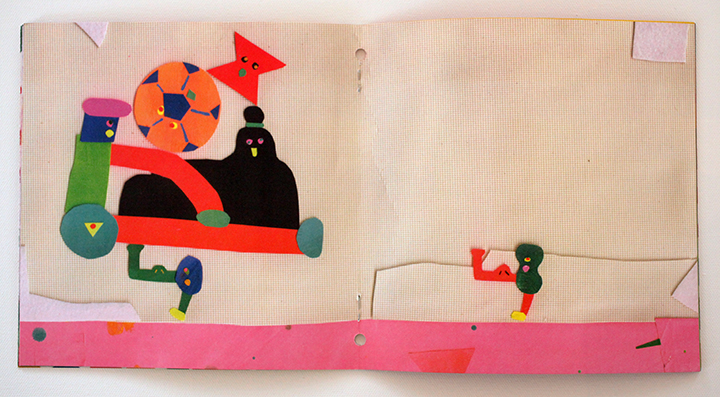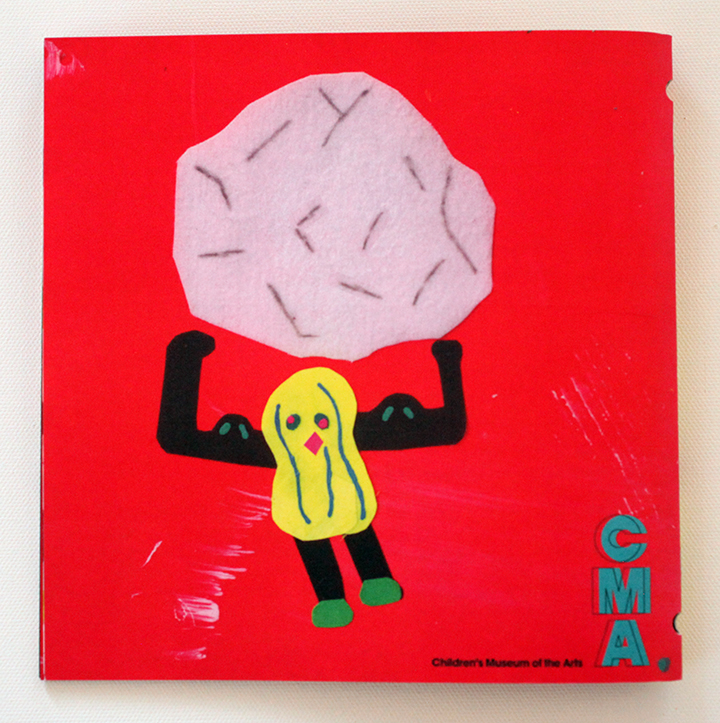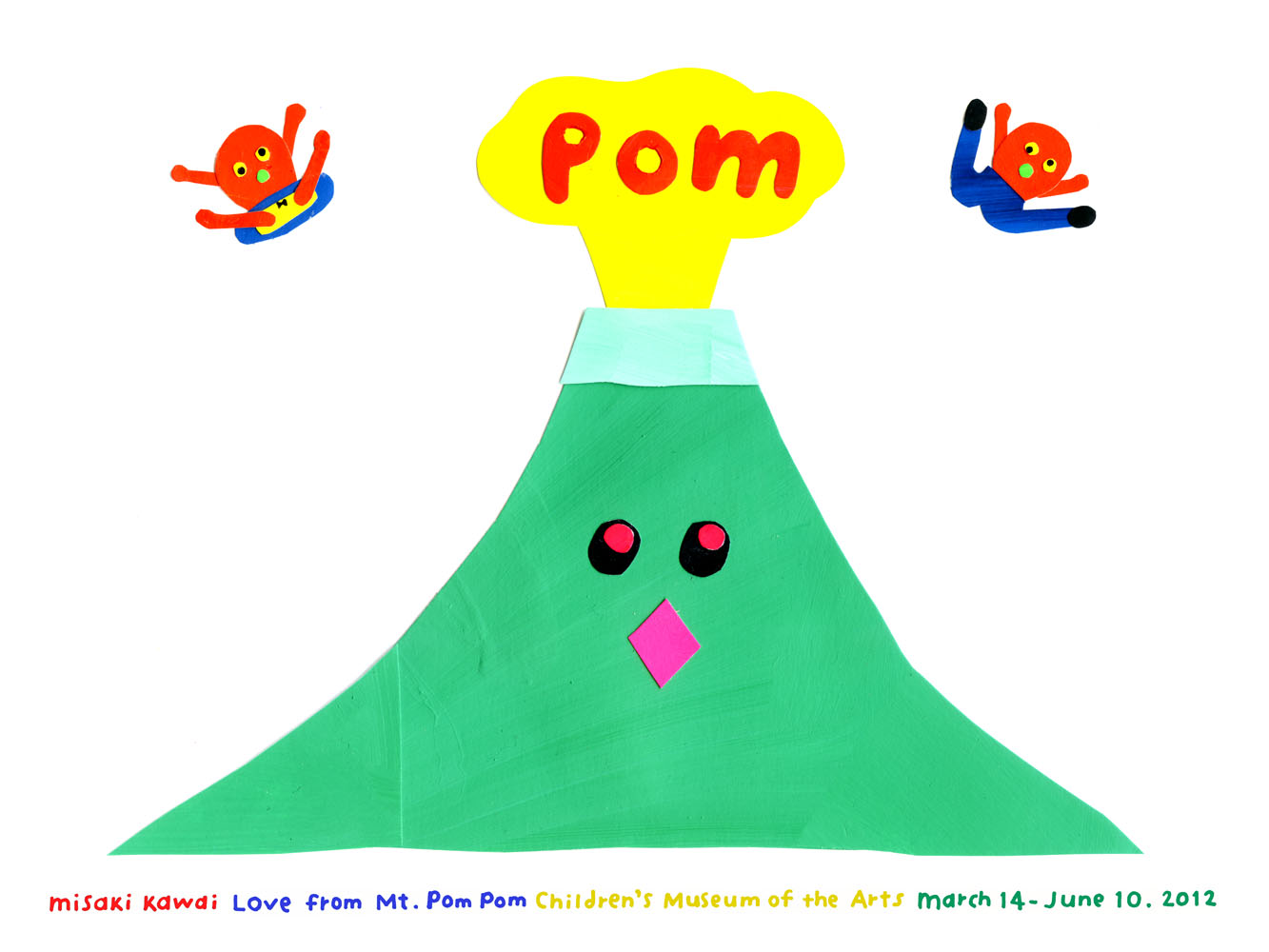 Arty Party Backpack
One of the many items produced for the CMA Museum Store. 
Design by Misaki Kawai. Produced by Jem Fabric Warehouse.  
"Live" From Mt. Pom Pom
The behind-the-scenes documentary about the making of the exhibition.
Written & Produced by NOLA Art Dept.